High-Quality Crawl Space Care Products
CrawlSpace Care® uses many different components when encapsulating your crawl space to protect your home and foundation from excessive moisture. Of course, different structures require different components, but just as we believe in high-quality service, we also believe in using high-quality materials to do the job right.
A closed crawl space will keep the mold out, improve air quality, and can save up to 18% on energy bills for homes in Roanoke and the New River Valley.
Here are some of the main components we use when installing a CrawlSpace Care® system: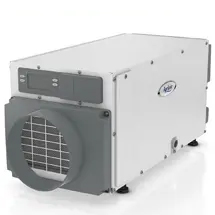 Crawl Space Dehumidifier
Dehumidifiers pull in air, extract moisture via coils or sinks, release the dry air, and pump the moisture out via an outlet hose. Our preferred dehumidifiers are the Aprilaire Model 1820 and 1850 Series. The Model 1820 removes up to 70 pints of moisture a day and the Model 1850 removes up to 90 pints. Both are low-maintenance, requiring only an annual filter change. In addition, these units both include five-year manufacturer warranties.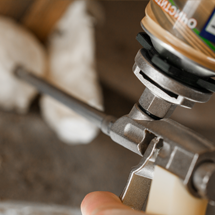 Expandable Foam
We use this foam around exposed vents and holes to keep pests and moisture out. If you need pest control or removal, visit our sister company, Bug Man Exterminating.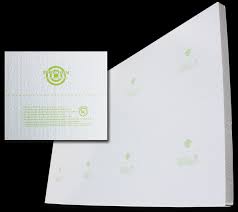 Bora Foam Insulation
Made by Nisus, this 3-inch moisture- and termite-resistant insulation is installed on the exterior crawlspace walls. The insulation carries an R-11 rating and replaces overhead fiber insulation to create a truly conditioned space.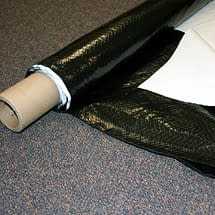 Crawl Space Plastic Floor Liner and Sealing Tape
This 12-mil or 20-mil liner (depending on ground conditions, underlying issues, and customer preference) covers all of the ground in the crawlspace. All seams are staked and taped, and the liner is fiberglass reinforced.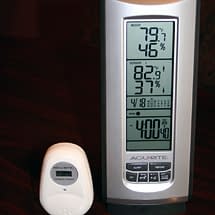 Accurite Temperature and Humidity Monitor
Monitoring temperature and humidity levels in the crawl space can help identify potential problems early. This unit has a base unit inside the home that monitors crawl space conditions via a remote unit placed in the crawl space.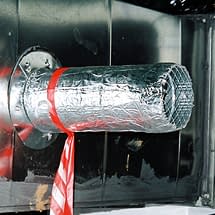 Supply Air Inducer
Humidity and temperature levels can be regulated using a Supply Air Inducer that introduces a small amount of conditioned air into the crawl space. This helps maintain appropriate relative humidity and temperature conditions, and the device includes a backflow dampener to keep crawl space air from entering the duct system.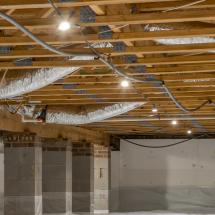 Crawl Space LED Lighting
A 50-foot strand of LED lighting improves crawl space visibility and makes maintenance far more accessible. In addition, this will allow you to use the space for non-invasive storage.
*Electrical outlets are required in the crawl space. We recommend you hire a licensed electrician to install outlets. We can coordinate with an electrician to install outlets before the encapsulation.