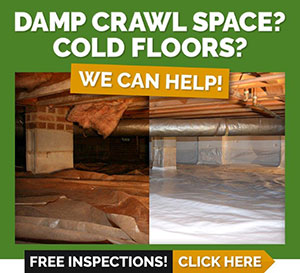 Petersburg is a historic city in Central Virginia that sits along the Appomattox River. While it's best known for the role that it played during America's colonial and antebellum periods, the city is now home to Virginians who want an ideal jump-off point for hiking in the Blue Ridge Mountains to the west and surfing the Atlantic Ocean to the east.
Petersburg's humid climate makes it important to address crawl space issues for a more comfortable and clean home. CrawlSpace Care offers a variety of services to keep Petersburg crawl spaces dry and fungus free. Here are some of them.
Moisture Control
Excess moisture in your home's crawl space can lead to a host of problems. Foundation damage, fungal overgrowth, and poor indoor air quality are just a few of them. We offer many products and services that work in combination to control moisture levels in crawl spaces. We lay down vapor barrier plastic throughout crawl spaces and install foundation insulation and dehumidifiers to keep these spaces consistently dry. Our crawlspace encapsulation services seal the space against moist, outdoor air.
Closed Crawl Spaces
Newly constructed homes are moving away from vented crawl spaces to closed crawl spaces. Vents let in humid outdoor air, which contributes to poor moisture management. We help homeowners to stop mold growth, termite infestation, and wood rot dead in their tracks by converting vented crawl spaces into closed crawl spaces. Upon inspection, we seal vents, install moisture barrier liners, and apply moisture-resistant foam insulation to exterior walls. We leave a dehumidifying mechanism in the space for constant moisture control.
Cooling your home during warm-weather months accounts for a large part of your monthly utility bills. By installing a closed crawl space system, you significantly reduce the amount of hot, humid air that rises into your living space during summer. This lowers your power bills, and it lessens the workload on your HVAC system.
Crawl Space Components
New technology paves the way for improved, consistent moisture management. Besides vapor barrier plastic liners and dehumidifiers, we also sell and install supply air inducers, remote-controlled humidity monitors, and Bora Foam foundation insulation for exterior walls.
Types of CrawlSpace Care Services
Call for a Free Quote on Service
CrawlSpace Care is a family-owned business that serves households throughout Central Virginia, Southern Virginia, and the Shenandoah Valley. Our services yield better indoor air quality and lower energy bills.
Call Today to schedule a crawl space inspection.