CrawlSpace Care
Crawl Space Encapsulation in Salem, Virginia
Salem is a midsize town in Virginia with a population of around 24,000 people, and those in the area are proud to call this town their home. Salem has mild winters and hot, humid summers, making it a great place for those who enjoy spending time at the beach. The problem with humid air is that it allows moisture to get into your crawl space. Also, crawl spaces that are not sealed properly let insects and other pests inside.
Moisture Control Salem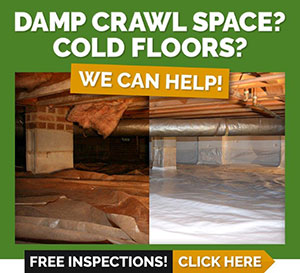 If you are looking for moisture control Salem, you have come to the right place. Moisture that gets into your crawl space gives mold the chance to form and creates other problems you want to avoid. You could notice buckling in your floors and a musty smell in your home. Avoid those problems with crawlspace encapsulation. Crawlspace encapsulation keeps insects out and creates a vapor barrier for your home. Our vapor barrier installation service takes care of many issues so that you won't have to face them alone.
Closed Crawl Spaces
This section explores the benefits of our vapor barrier installation service. If you would like to have a closed crawl space, our CrawlSpace Care system meets your needs in more ways than one. We begin by sealing all the vents in your crawl space and using a vapor barrier to keep moisture out. After sealing your crawl space, we inspect for and treat any termite infestations we discover along the way.
Components
We have many components that let you make the most of your closed crawl space. We can install a dehumidifier and a supply air inducer. Those components work wonders when it comes to keeping the moisture in your crawl space at safe levels that won't allow mold to grow.
If you would like to monitor the status of your crawl space, let us install a temperature and humidity reader. We can even install foam insulation to help you save money on your energy bill each month, and you will be pleased with the difference it makes.
Services
Getting Started
If you would like to keep moisture and pests under control in your crawl space, Crawl Space Care VA is here to give you a hand. Moisture creates a variety of issues that are expensive to address unless you deal with it right away.
When you want to protect your home from harm, keeping pests at bay is another vital piece of the puzzle you can't overlook. Let us take care of those issues and make your worries a thing of the past. If you are ready to begin or want to learn more, contact Crawl Space Care VA today.