CrawlSpace Care
Crawl Space Encapsulation in Lynchburg, Virginia
Boasting a population of just under 2,000, Lynchburg is a small and peaceful town hidden away from the rush of the big city. Those who live in the area enjoy hot summers and cool, mild winters and would not have it any other way.
If you live in the area or are planning to move here soon, the humid air makes it essential you take good care of your crawl space when you don't want to face problems. Failing to maintain your crawl space can cause rotted boards, mold and pest infestations that you should avoid.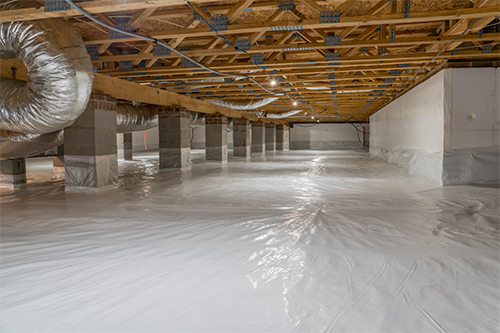 Crawl Space Encapsulation and Moisture Control
Crawl space encapsulation and moisture control is a great solution when you want to protect your crawl space and home from a variety of issues. With our encapsulation service, we come to your home and seal your crawl space off from the outside world.
We will apply sealant on the top, bottom and sides of your crawl space in addition to sealing vents and other openings. Our encapsulation service is perfect when you want to keep moisture and pests out of your crawl space and away from your home. The crawl space waterproofing service we provide keeps fungus out and establishes a vapor barrier.
Crawl Space Insulation
You might not know that heating and cooling your home uses more energy than almost anything else you could do, so taking steps to reduce your heating costs is wise. An uninsulated crawl space allows air from outside to enter your home and impact your energy bill, a problem you don't want to face. You can count on us to put insulation in your crawl space and protect you from that issue. Many people are happy to learn that they can earn their money back over time by keeping their energy bill under control.
Crawl Space Dehumidifier
You might think you are in trouble if your crawl space already has water or moisture in it. Left unaddressed, moisture can create the ideal environment for mold to grow, and you could even notice rotted floorboards and support beams if you are not careful. We can dehumidify your crawl space before we provide our other services if you would like to boost your results.
Crawl Space Care Is Here to Help
If you are ready to safeguard your crawl space from moisture, fungus and other problems, you have come to the right place because we will have your back from start to finish. The team at Crawl Space Care will speak with you to learn about your needs so that they can craft a solution that meets your needs better than the rest. You can contact us for a free quote the second you are ready to begin, and we look forward to working with you.